Fence Repair Process
PHASE 1
Assess Fence & Surrounding Area
Determine Extent of Damage
Create Repair Plan
Ensure Neighbours are OK with Repairs
1

PHASE 2
Remove and Dispose Damaged Parts
Concrete Footings
Strong Posts
Straighten Panels
Fully functional Gates
2
What's Wrong With My Fence?
Check out our List of Typical Fence Repairs
Typical Fence Damage
Rotting Posts
Broken Lattice
Panels Falling Over
Typical Fence Repairs
Replace Posts
Replace Lattice
Repair/Replace Panels & Posts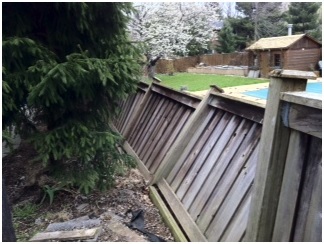 We Repair Fences
Wood fences may weaken over time and may need to be repaired. Sometimes wood may rot or the fence can fall over due to harsh weather.
Whatever the problem is, you can be confident that The Deck Doctor will be able to repair your fence. Get in touch with us to discuss your project.